September 2018
Everything is in full swing on the Michigan campus, which means plenty of items for you to keep track of. No matter who you are, everyone needs a hand in navigating Michigan programs, which is why we've put together a list of Campus Info's top online resources. Featured at the end of our list is a brand new Michigan digital resource, Maizelink!
Michigan Library Research Tools
If you have ever had a paper on a topic you did not understand, or wanted to know more about a subject before taking a class, we hope you had the M Library Research Guides at your disposal. With database guides in 13 topics, such as Arts, Business, and Technology, this resource connects you to the scholarly materials you need, and will even assist in citations!
The Michigan Library also hosts separate databases in video and music streaming, for both academic and personal interest. The Streaming Video Online Databases page of the Askwith Media Library website can provide you with thousands of documentary and educational videos, but also will connect you to the Sony Pictures Classics database with hundreds of fantastic movies from the last century of film. The Music Library hosts database resources in video and audio, and can supply you with hours of content from genre specific libraries of music.
Michigan Public Engagement and Impact Training & Resources
The Training & Resources webpage, hosted by the office of the Vice President of Communications, offers, "a list of training opportunities, government relations guidelines, media outlets and other useful resources available through the university."
With training information and outreach resources available for students and faculty alike, this site will connect you to plenty of opportunities to refine your engagement skills and help your message make an impact on campus.
Campus Information Digital Resources
While our office loves interacting with patrons in person, Campus Info also maintains multiple online tools that can save you time and enrich your Michigan experience. Our website hosts resources in bus maps and campus navigation as well as information regarding transportation services under the Find Your Way page.
Additional services we provide through our site include the ability of other UM offices/groups to order our information Publications, and patrons who lose items on campus can check our Lost & Found database to see if their item has been turned in. Furthermore, patrons who just need some information assistance can reach us through our chat line, or at any time by phone at (734) 764-INFO or email at info@umich.edu. 
Maizelink
Now for the moment you have all been waiting for. The department of Information and Technology Services wanted to create a tool which would assist in navigating the university online infrastructure, and streamline use of Wolverine Access. The result of these efforts was Maizelink!
Maizelink brings together every menu and service from Wolverine Access, bus schedules, and other U of M online resources in one, customizable homepage for your convenient access. Visit the website as a guest to browse all of the available links, or sign in with your Uniqname and begin saving time today with a personalized Michigan desktop!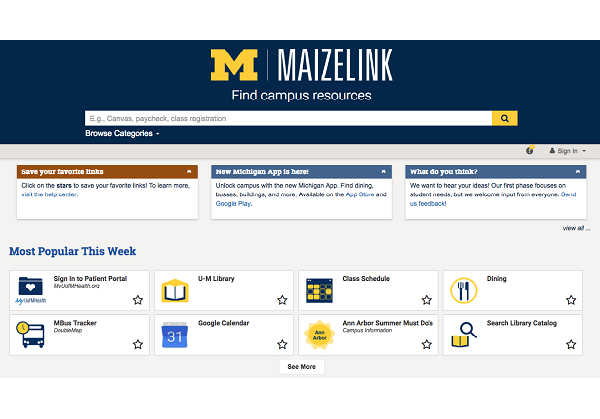 That's all for now Wolverines. If you have any other suggestions for UM digital resources, or ever have a question on campus, please feel free to connect with us online or in person.
Keeping you informed,
Campus Information